PLAXIS offers powerful tools to improve your geotechnical engineering workflows. But did you know that there are a number of ways that enable you to work more efficiently from the very beginning to save time and achieve more accurate results? This series will cover several helpful tips that can boost your productivity.
Part 1

|

How to Model Structures and Visualize Structural Forces in PLAXIS

View OnDemand
Soil-structure interaction is a crucial aspect for both geotechnical and structural fields. There is always an interaction between a structure and its foundation … and its proper investigation is an important design aspect which should not be neglected. Join our webinar to see how PLAXIS offers extensive modeling features to model structures and the interaction between the structures and the soil.
In this webinar, you will learn about:​​
Structural elements library
Modeling structures as solid elements
Structural forces evaluation
Part 2

|

How to Perform Dewatering in PLAXIS

View OnDemand
The study of groundwater is essential for geotechnical engineers who construct building foundations, tunnels, water conveyance channels, dams, mines, and other structures. Join our webinar to see how PLAXIS 2D and PLAXIS 3D are fully equipped with a complete set of tools to model changes of pore water pressure and, more specifically, dewatering, along with its influence on soil mechanical behavior.
In this webinar, you will learn about:​​

Terzaghi principle of effective stress
Water levels and hydrostatic pore pressure distribution
Groundwater flow analysis

Richard Witasse
Principal Product Manager, Geotechnical
Recognized as an expert in geotechnical analysis and engineering, Richard Witasse has more than 15 years of experience in working with geotechnical digital tools and geotechnical finite element analysis software. After starting his career as a software engineer in the field of finite element analysis software for reinforced concretes structures, Richard became an application engineer and worked for the global leaders in geotechnical analysis software. Richard joined PLAXIS in 2008 and has always worked since the non geotechnical consulting, customer success and training for the many users of the most popular digital solutions for geotechnical engineering and analysis. Since 2018 Richard Witasse is Principal Product Manager with Bentley Systems.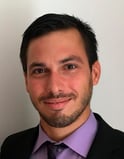 Miquel Lahoz
Product Manager, Geotechnical
Miquel Lahoz is a product manager for Geotechnical Analysis based in Delft, the Netherlands. He has experience in design, project delivery, and asset management of fixed, moving, and floating structures for offshore wind foundations, seaports, civil infrastructure, passenger terminals, and chemical plants. Miquel holds a master's degree in civil engineering from the Technical University of Catalonia and a bachelor's degree in economics and management from the University of London.
"In addition to the advantage of Virtuosity's Virtuoso Subscription, which includes expert services and training, having the ability to purchase practitioner licenses also enables us unlimited usage and access to the software products in our national and international offices. As a result, we can support projects with an international team more effectively and by constantly applying the latest developments of Virtuosity's products, we ensure our competitiveness in the market and the best results for our customers."
Werner Felber, Managing Partner Boley Geotechnick GmbH, Beratende Ingenieure