Available OnDemand
As engineers we get it! Each day, you face an increase in demand for engineering accuracy, contract compliance, and the production of a variety of deliverables. All within-firm deadlines.
To successfully deliver today's road infrastructure projects you need software that seamlessly collaborates across disciplines, innovatively supports growing industry demands, and removes tedious manual work. OpenRoads Designer is that software.
OpenRoads Designer supports all aspects of detailed road design, including surveying, geotechnical, drainage, underground services, terrain, roads, road furniture, and more.
Join us to see how OpenRoads Designer helps you solve critical business problems to ensure your deliverables meet contract requirements on time every time.
In this webinar, you will learn about:
The Virtuosity licensing model​
How to easily share data between bridges, drains, roads, and more to create a multidisciplinary composite model
How to effectively deliver construction documents such as cross-sections and planned profile sheets
How to adapt to design changes by integrating your design intent into a lively and dynamic design model
Sri Rama Krishna
Product Sales Engineer
Virtuosity, A Bentley Company
Sri Rama Krishna is an experienced professional with a demonstrated history of working in the CAE/CAD industry. He has total experience of close to 7 years, and currently, working in Bentley Systems India, as Product Sales Engineer. Sri Rama Krishna started off his career as an Engineer in Bridge Consultancy Industry. As a Product Engineer at Bentley's Virtuosity, he helps professionals across India solve their complex Structural engineering problems and improve their analysis and design workflows by providing best practices.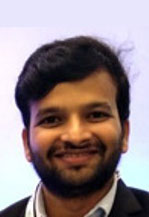 Roshan Bucha
Team Lead-Civil Engineering
Bentley Systems
Roshan holds a BE degree in civil engineering from the University of Solapur and has over 6 years of experience working across India with infrastructure companies such as Fischmann India Pvt Ltd; specifically, in road and rail designs. At Bentley, he specializes in road and rail desktop solutions for infrastructure projects and has talked on the subject in infrastructure conferences. He is also responsible for technical and sales support for the region in India and SAARC.