With the ever-increasing demand for data and 5G technology accommodation, tower engineers can only thrive if they have software that is built specifically for the task at hand. Learn about the evolution of tower software and see for yourself how OpenTower transforms the design practices of telecom towers by encompassing the lifecycle management of tower engineering, starting from the tower and mount analysis to inspection and reality models, and finally completing the loop of a tower digital twin. OpenTower is the only application that is specifically built for reanalysis, modifications, and scenario analysis. It is the most modern and efficient tower solution that offers advanced analysis, catalogs, and visualization capabilities so you can design and complete projects faster than ever.

Join this webinar to learn about the latest application built-specifically for designing and analyzing mounts. The program is purpose-built for analyzing Sector-Frames, Platforms, T-Arm, etc. OpenTower Mount Analysis is an integrated design workflow that eliminates the need for time-consuming in-house tools to pre-process data, expensive structural analysis programs, and then manual report generation. OpenTower can do it all.

Watch a live demonstration of this specialized program to take advantage of an integrated workflow and customizable catalog to gain your competitive edge.
In this webinar, you will learn about:
The latest application built-specifically for designing and analyzing mounts
Integrated communication tower workflows and customizable catalogs
How to save time on mount analysis to increase your profits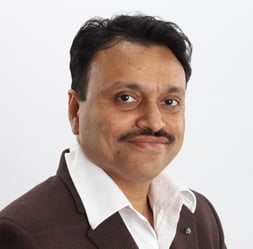 Apurba Tribedi
Senior Director, Bentley Systems
Apurba Tribedi is a Senior Director at Bentley Systems Inc. He currently leads a distributed multi-national team to create and market new software and services for the telecom industry.

After graduating as a Civil Engineer in 1994, he joined Research Engineers as a software analyst and soon became a lead engineer-programmer for the world's leading structural analysis software, STAAD. For over 20 years, he has been managing, engineering, architecting, and developing engineering software and services. He has traveled around the world to train and market Bentley's software products and services to its users. His vision was instrumental to the development of several Bentley product lines, including STAAD and OpenTower.

He is an engineer, programmer, inventor, author, and philanthropist. He was awarded a US patent in 2017 for his work on soil-structure interaction and has published several peer-reviewed papers for various journals and conferences. He currently has two other patents pending approval. Outside of his work at Bentley, Apurba is deeply involved in philanthropic work. He shares a passion for supplying clean water to those in need and has installed water filtration systems to dozens of schools in his native town in India, improving the quality of life for tens of thousands of students and their families.
Pankaj Taneja, PE
Tower Product Manager, Bentley Systems
Pankaj Taneja, PE has over 14 years of experience in the engineering and construction industry with specialization in the field of structural engineering. He has diversified experience in both design and construction of structures ranging from industrial buildings, telecommunication towers and foundations, to construction of mass rapid transport systems (Metro) with world-class organizations in the US and India.