Using rule of thumb, spreadsheets, or outdated lookup tables for sag and tensioning is tedious, complex and, if not done properly, can result in costly mistakes. In order to stay compliant, reduce risks, deliver precise and real-time calculations, utilizing software is an effective tool to help you meet those requirements. SPIDA®silk was designed to do the heavy lifting and efficiently produces stringing charts, sag-tension tables, and uncomplicated reporting.
Join our product expert, Matt Cain, for a live webinar and learn how SPIDAsilk, an affordable, easy-to-use platform, makes calculating sag and tension easy.
​In this webinar, we will:
Demonstrate SPIDAsilk

Highlight key features, including integration with SPIDAcalc

Discuss use cases

Discuss how to implement SPIDAsilk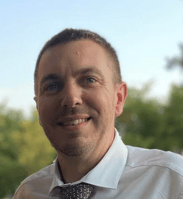 Matt Cain
Senior Product Manager
Bentley Systems
Matt Cain is a Senior Product Manager at Bentley and has worked in engineering services, training, customer implementations, and product management over his 15 years of experience in the utility and software industries. Matt is committed to providing solutions to customers, focusing on the end-user and customer service. Matt graduated from The Ohio State University and resides in Delaware, OH with his wife Jessica and three children.