Uno de los 7 pasos principales de cualquier flujo de trabajo estructural arranca por una correcta definición geométrica. Que en principio tiene reglas en todos los programas-ambientes.
En esta charla técnica hablaremos un poco de las generalidades desde cero (0) de las nomenclaturas en STAAD.Pro para su correcto inicio de modelos analíticos y físicos.
Únase al seminario web para aprender:
7 pasos básicos para análisis y diseño en STAAD.Pro
Trilogía de comportamiento general de modelos
Comandos geométricos modelo analítico
Comandos geométricos modelo físico
Preludio de pasos consecutivos a la definición geométrica (STAAD.Pro)


Presentadores de seminarios web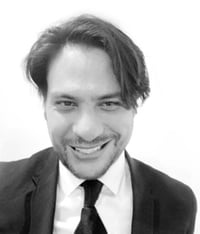 Carlos Rincon
Product Sales Engineer
Virtuosity, a Bentley Company
Carlos Rincon is a Product Sales Engineer at Virtuosity. He is also a civil structural engineer graduated in Venezuela, with certification / specialization in earthquake resistance design, with 17 years of experience in the Oil & Gas industry and buildings sectors. ​​

His mission is to provide structural analysis technology solutions focused on the buildings and industrial fields (onshore and offshore) presenting the most suitable workflows for each application and each user. Prior to Bentley / Virtuosity, he worked as a design engineer in important companies in South America and the Caribbean (Colombia, Curacao, Panama, Trinidad, Venezuela, Peru), as well as in the engineering training area (English / Spanish) assisting as Lecturer of Structural, Piping and Offshore Solutions for 10 years.